The global context of poverty and hunger 
In September 2015, the United Nations General Assembly adopted a set of 17 Sustainable Development Goals (SDGs) as part of the 2030 Agenda for Sustainable Development. SDG 1 seeks to "End poverty in all its forms everywhere" and SDG 2 seeks to "End hunger, achieve food security and improved nutrition and promote sustainable agriculture".
Poverty or social exclusion in the EU-28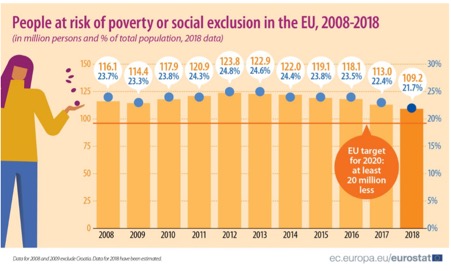 In the EU in 2018, 5.8% of the population were severely materially deprived.
More than a quarter of the population was at risk of poverty or social exclusion in seven Member States: Bulgaria (32.8%), Romania (32.5%), Greece (31.8%), Latvia (28.4%), Lithuania ( 28.3%), Italy (27.3%)  and Spain (26.1%). At the opposite end of the scale, the lowest shares of persons being at risk of poverty or social exclusion were recorded in Czechia (12.2%), Slovenia (16.2%), Slovakia (16.3%, 2017 data), Finland (16.5%), the Netherlands (16.7%), Denmark and France (both 17.4%) and Austria (17.5%).
Learn more about statistics on people at risk of poverty and social exclusion here (updated in October 2019).
One of the five headline targets of the Europe 2020 headline indicators is to reduce poverty by lifting at least 20 million people out of the risk of poverty or social exclusion by 2020. For the moment only 8.2 million people were lifted out of the risk of poverty or social exclusion.