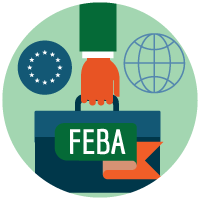 FEBA represents its membership on cross-cutting issues, promoting policies to facilitate food donation while preventing food waste and reduce food insecurity and social exclusion, working with European institutions and international organisations, European stakeholders and EU-level NGOs.
Led by FEBA, in 2021 FEBA EU Working Group is composed of 24 Food Bank representatives from 19 FEBA members from Austria, Belgium, Bulgaria, Czech Republic, Estonia, France, Germany, Greece, Hungary, Ireland, Italy, Lithuania, Luxembourg, Malta, Netherlands, Poland, Romania, Slovenia, and Spain.
The EU Working Group aims at conveying the common position of FEBA members in one single voice.
Food donation is the best destination for the people, for the planet.
Established in 2014, the Fund for European Aid to the Most Deprived (FEAD) has been addressing the worst forms of poverty in the EU, such as food deprivation, child poverty and homelessness, with a total allocation of €3.8 billion (current prices) for the programming period 2014-2020. The EU provides up to 85% of funding, which is complemented by the Member States' own resources. This brings the total value of the fund to around €4.5 billion.
EU Member States may choose what type of assistance (food or basic material assistance, or a combination of both) and how the items are to be obtained and distributed, in collaboration with partner organizations as Food Banks.
In 2020 11 FEBA Members redistributed 162,466 tonnes of FEAD food.
Do you want to know more about the FEAD implementation amongst FEBA Members?
FEBA is a member of the Advisory Group of the FEAD Community and actively contributes to the organisation and participates in the meetings. The aim is to contribute to learning and 
capacity building on particular themes, operational issues and programming topics related to the FEAD.
EU Platform on Food Losses and Food Waste
Tackling food waste means working together with all key players from public and private sectors in order to better identify, measure, understand and find solutions to prevent with food waste.
FEBA is a member of the EU Platform on Food Losses and Food Waste (FLW), which was established in 2016, and brings together EU institutions, experts from the EU countries and relevant stakeholders and will continue to play a key role in mobilising action to reduce food loss and waste across the EU as part of the Farm to Fork Strategy.
FEBA participates in plenary sessions and contributes to:
Expert Group Contingency Plan