FoodCloud were delighted to host UN FAO Director-General, QU Dongyu, and his team including FAO Chief Economist, Maximo Torero and FAO Assistant Director-General, Mr Maurizio Martina, at their Dublin Hub earlier this month to demonstrate their circular solutions to tackle the dual issues of food waste and food insecurity.
The Director-General received a tour of the hub from FoodCloud CEO, Iseult Ward and Co-Founder & Partnerships Director, Aoibheann O'Brien and had a valuable discussion on the importance of technology and innovation to accelerate progress in tackling the enormous issue of food loss and waste at a time when the world faces a global food crisis.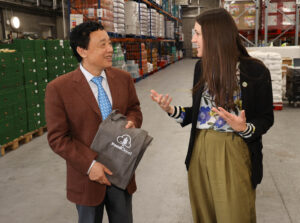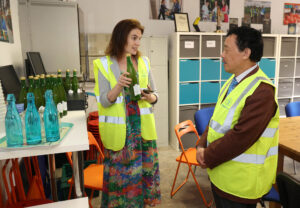 Following the visit, FAO Director-General QU Dongyu said:
'To end food loss & food waste, we need key partnerships with all sectors & actors, including women & youth. They have the potential to drive the transformation of our agrifood systems & we must empower them to seize every opportunity.'
The visit was coordinated by the Irish Department of Agriculture, Food and Marine (DAFM) who have been a supporter of FoodCloud's work in Ireland for a number of years.
In 2021, DAFM funded a research project 'Surplus Food Redistribution – An Opportunity to Reduce Farm Level Food Waste' and in 2022 are supporting FoodCloud's Apple Gleaning Project to enable FoodCloud to increase the volume of Irish apples rescued annually to produce more of their Cloudy Apple Juice.
Since the start of 2022, the equivalent of over 1 million meals every week has been redistributed through FoodCloud's solutions across Ireland, UK, Czech Republic and Slovakia.